Asolo-Jesolo 2020 Downhill Bike Experience !
Ready for Sunday 27th?
Ride! Or better, Go Down to the Sea, in Jesolo!
Like every year, from the Ezzelini bicycle lane, just 3 minutes away from the B&B Asolo
, and downhill suit – 🙂 here the Map with the altimetry / Pls Mind the Province is TV and Not VI -closed by anyway/
We will go to the Sea in Jesolo !
All Pedaling.
Well, pedaling a little, let's say, given that the sea of Jesolo , due to a strange case of fate, is at zero meters above sea level -Yesss- While we are on the dizzying heights (almost Himalayan) of the beautiful Asolo's Hills ( the Grand Tour, do you remember?) , about 160 meters above sea level
The B&B Asolo Casa Pagnano has been welcoming cyclists (mostly foreigners, we must admit) for years,
even before being part of  FIAB AlbergaBici European Network.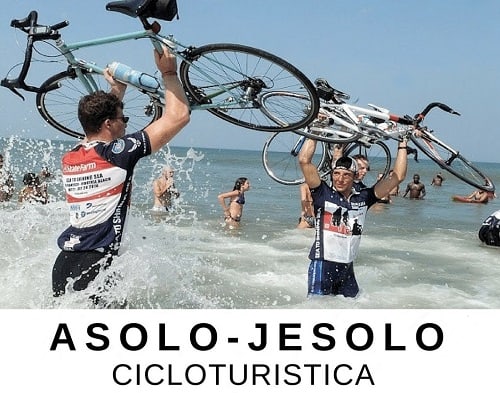 We believe in our territory and in its proper fruition . to be honest we believe in our B and B and in its location,
in its garages for storing and repairing, just in case, the bicycles of our guest friends, in its park , and in its parking lot which is always open at all the time.
In its secluded position, in its restoration, done by us, because it's a villa from the 1400s, even if not Palladian, those
(Villas of Palladio) both UNESCO World Heritage, we have them at 7Km and 15 Km. Villa Barbaro in Maser and Villa Emo in Fanzolo
But also the Museum Gypsoteca Antonio Canova , in his birthplace, but to get there ( 8km ) you have to go Up the rise whistl the villas, as for the Sea , are downhill 🙂
What else to add, apart from that we are waiting for you, safe as always , more than always given the times…?
see Sanitized Rooms B&B Asolo
See you soon, with the bike
Our Telephone Number and em @ ai l can be found on the Contact Page